Christmas in Newcastle
As you may know, I recently moved to Newcastle Upon Tyne this past October. While I love living in Newcastle, it has been hard to be so far away from my large family during the holiday season. To be honest, I'm mostly bummed I missed out on all of my mom's amazing Thanksgiving cooking.
Leaving Seattle and moving to a new place I had never been to before or knew anyone there has been a sometimes daunting task. However, I know in my heart that I needed the change. Instead of letting myself get down thinking about all that I'm missing back home, I've been working on making new traditions with new friends.
I spent my last Saturday in Newcastle before going home for Christmas with my friend Connor in the "Toon." Our first stop was the Fenwick department store to look at their Christmas windows. This year, the theme was Paddington Bear. I felt as giddy as a little kid because I used to L O V E Paddington Bear when I was little and living in London. In fact, I believe I was a lot more excited than most of children who were also there.
One of my favorite displays of Paddington was of him having high tea. Though perhaps I'm biased because I have an incredible sweet tooth! After we had seen all of the window displays, we headed into Fenwick to get a look at their Christmas ornaments.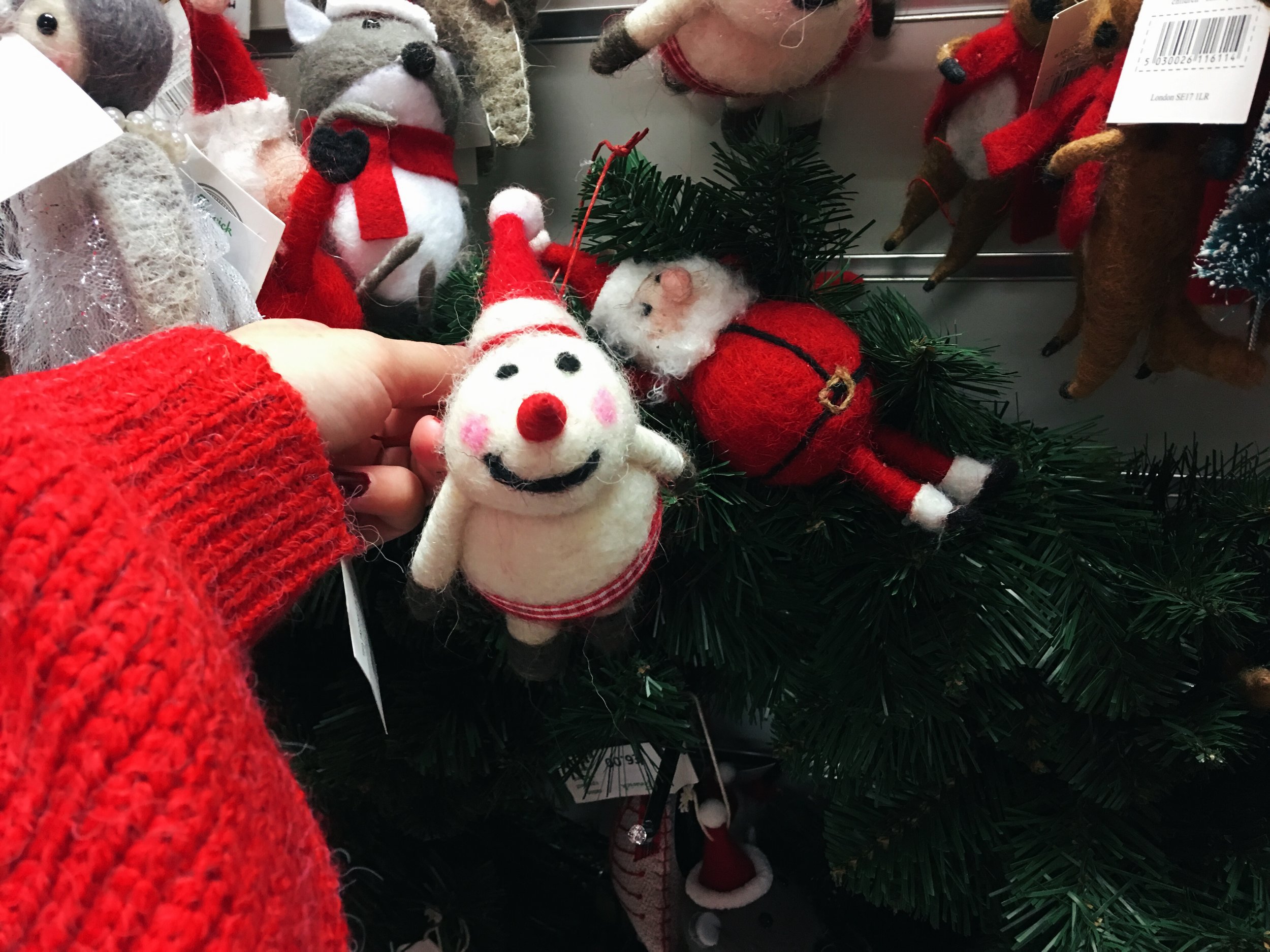 I completely fell in love with this chubby snowman and his rosy cheeks
Connor was a real sport, and we had a major photoshoot in Fenwick's despite the judging glares we received. I just couldn't resist posing amongst the Christmas displays and on the furniture for sale. I wore a festive all-red monochromatic outfit. On top, I had on what has since become my favorite jumper because of its soft, cozy knit and amazing bell sleeves. It's a Fashion Union sweater, and I bought it off of Zalando on the Black Friday sale. I love it so much if it the grey version comes back in stock, I'll definitely purchase it. On the bottom, I wore high-waisted trousers from Asos.
Afterwards, we rewarded ourselves with some hot cocoa and took a look at the Christmas market stalls. I bought some homemade mid-century-style owl wooden ornaments as a present for my mom. After some browsing, we joined the massive crowd by Hadrian's Teepee and indulged in some mulled wine before we ended the evening.
I had such a fantastic time creating my new Christmas traditions in Newcastle, and I hope to add more next year. So while it can be tough to be so far away from my family this time of year, I know that I can still get into the holiday spirit. My only regret is that I didn't buy that adorable snowman ornament!
P.s. Paddington wishes all of you celebrating a merry Christmas